The main dish may be the star of the Christmas feast and dessert may end the party with a sweet note, but appetizers set the whole tone for the celebration.
On your Holiday party, fight the urge to purchase store-bought cheese and veggie stick trays from the grocery. Make your appetizer more personal and festive by picking the ingredients yourself and laying them out in a decorative way. A cheese platter may seem trivial and unimportant, but it actually tells your guests how much you prepared for the special day that you want to spend with them!
Here are some cheesy appetizer ideas that are perfect for your Christmas party! 
Vertical Cheese Board (StoneGable)
This is undeniably a great way to serve your appetizers - in a stack of cake plates! If you don't have cake plates at home, a cupcake stand or a tea time plate stand will do. The candle on top of the stack makes the whole ensemble Christmasy and festive!
If you're having kids for the party, make sure to add something on the stack that they would like such as cheese-filled cracker sandwiches or Holiday candies.
"Loaded with great cheeses, meats, veggies, fruit, olives and nuts. Guest love it and there is something for everyone! And the best part is… I don't have to cook anything!"
The cheeses:
one hard cheese: sharp cheddar
one soft cheese: Borsin
one "stinky" cheese: French Bleu
two favorites: havarti and manchego
The meats:
hard salami
pepperoni
sporessata
And the fruits:
cherries
grapes
clementines
pomegranates
via Vertical Cheese Board (StoneGable)
Christmas Tree Cheese Board (CakesCottage)
This is a great and simple cheese platter to serve on your Holiday party. A bunch of cheese, grapes and herbs all laid out to resemble a Christmas tree! What could be better than that? It's cute and festive, but it's also very easy to pull off.
 "There's nothing cheesy about it: this Christmas tree made from different flavored cheese cubes and grapes makes a charming impression. If there are any leftovers, you can make cheese omelets or a mini-fondue."
Ingredients
½ lb / 200 g Cheddar Cheese, cut into ¾-inch cubes
½ lb / 200 g Smoked Gouda Cheese, cut into ¾-inch cubes
½ lb / 200 g Monterey Jack Cheese, cut into ¾-inch cubes
½ lb / 200 g Mozzarella Cheese, cut into ¾-inch cubes
1 lb (450 g) each seedless green and black or red grapes
1 pkg (40 g) fresh rosemary or thyme sprigs
1 stalk celery
2 Tbsp. Cream Cheese
2 Tbsp. finely chopped fresh parsley
1 piece celery (2 inch)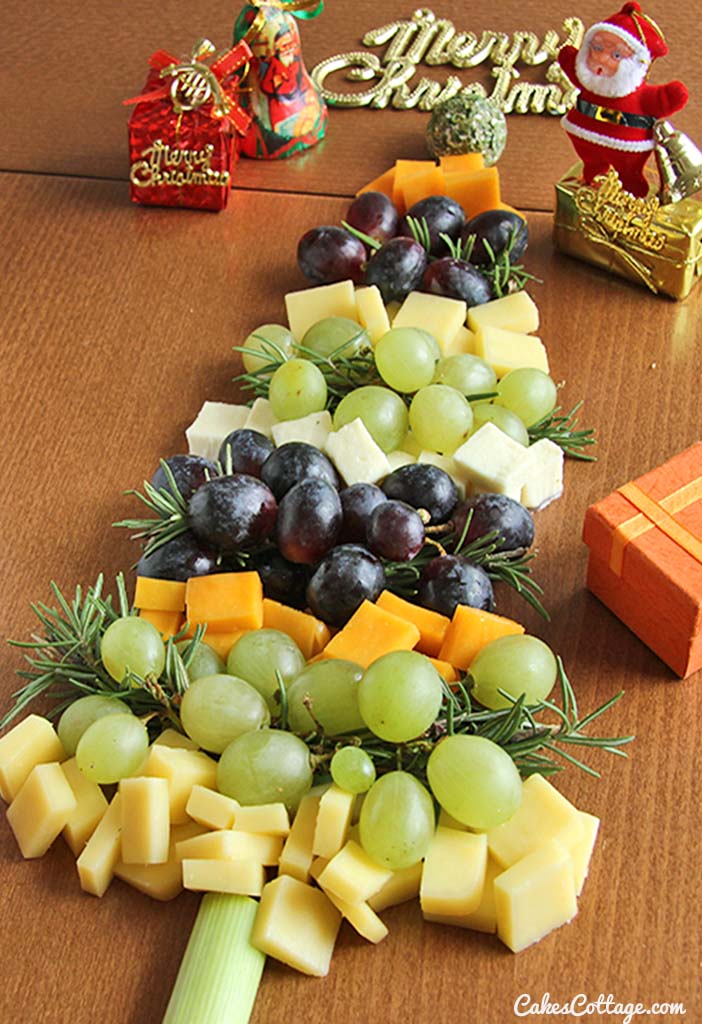 via Christmas Tree Cheese Board (CakesCottage)
Holiday Cheese Wreath (Five Heart Home)
Here's another fun and easy cheese platter to make for Christmas - a combination of cheeses, cherry tomatoes and rosemary sprigs arranged to resemble a Christmas wreath.
The ribbon-shaped bell pepper at the bottom center of the circle just kicks the cuteness level of this platter up a notch!
"Make an easy and festive Holiday Cheese Wreath party appetizer by arranging cubes of cheese in a ring, accenting with cherry tomatoes and a garland of rosemary, and finishing off with a bell pepper bow!"
Ingredients:
8 ounces cheddar cubes
8 ounces Colby Jack cubes
8 ounces Monterrey Jack cubes
8 ounces Swiss cubes
Approximately 10 cherry tomatoes
1 red bell pepper
Sprigs of fresh rosemary
via Holiday Cheese Wreath (Five Heart Home)
Want to make your cheese platter truly special? Add some oven-toasted crackers on it!
Make Holiday cooking time a lot easier and more enjoyable by using good quality non-stick silicone baking mats. Not only are silicone mats sturdy and durable, because they're non-stick, you can also cut your clean up time in half.