Holidays is the time for glorious feasts and special dishes. This year, why not give those cake mix boxes a break and flex your muscles in the kitchen to whip up a great cake perfect with that warm cup of spiced apple cider? 
Today, we're featuring three great cake recipes that will not only make you practice your kitchen prowess, but will also build up your image as a pastry genius among friends and family who will be coming over for Christmas dinner!
There's something for all sorts of cake lovers - vanilla, sugar and spice, and coffee-flavored. Pick one that you love and start baking! 
Christmas Vanilla Roll Cake (A Treats Affair)
This roll cake looks so great but is actually pretty simple to make. It's a simple vanilla cake roll made with the usual yellow cake batter and simple buttercream. Yes, it initially looks plain and simple. But add green and red sprinkles on top and you got yourself a homemade cake that spells C-H-R-I-S-T-M-A-S! 
Go ahead and be more creative by adding other Christmasy adornments like poinsettia cake toppers or chocolate rounds that look like Christmas tree balls. Let your imagination run wild!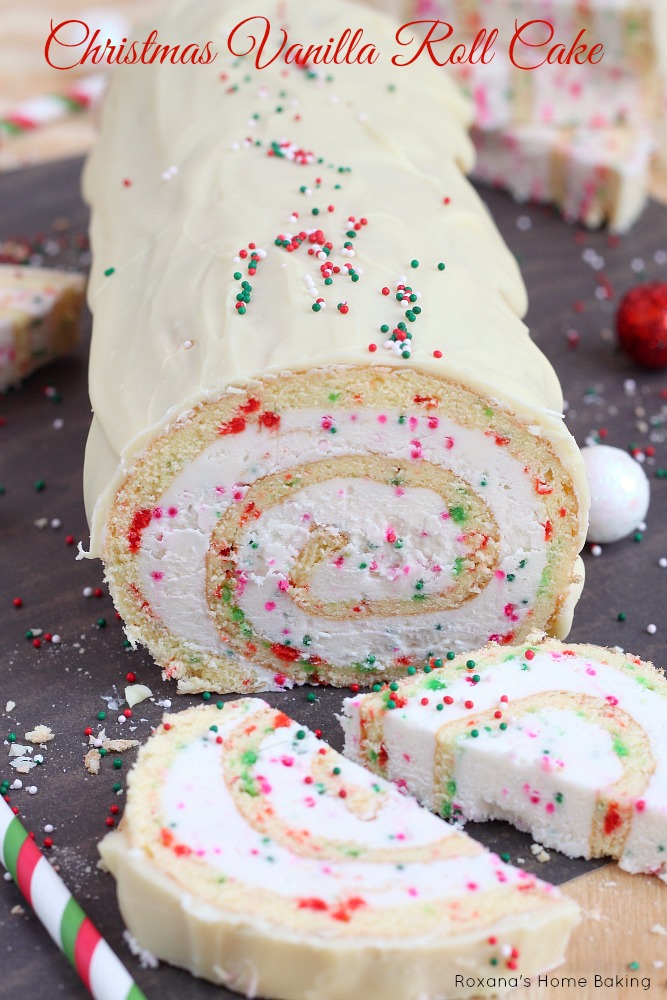 "I wanted to make a new one for this Christmas but I wasn't sure what flavor to pick until I found the red & green batter bits. I knew right then I wanted a simple vanilla cake filled with creamy buttercream with lots and lots of Christmas sprinkles."  
Ingredients:
Vanilla Roll Cake
2 eggs
3 egg yolks
1/2 cup (100 grams) sugar
1 teaspoon vanilla extract
1/3 cup (30 grams) sifted cake flour
3 tablespoons (30 grams) cornstarch
1/4 cup red & green Wilton batter bits or edible confetti
2 egg whites
1 tablespoon sugar
Vanilla Buttercream
1 cup butter, room temperature
3 cups (360 grams) powdered sugar
3-4 tbsp red & green sprinkles
1 teaspoon vanilla extract
1-3 teaspoons heavy cream
Decorations
4 oz white chocolate
red & green sprinkles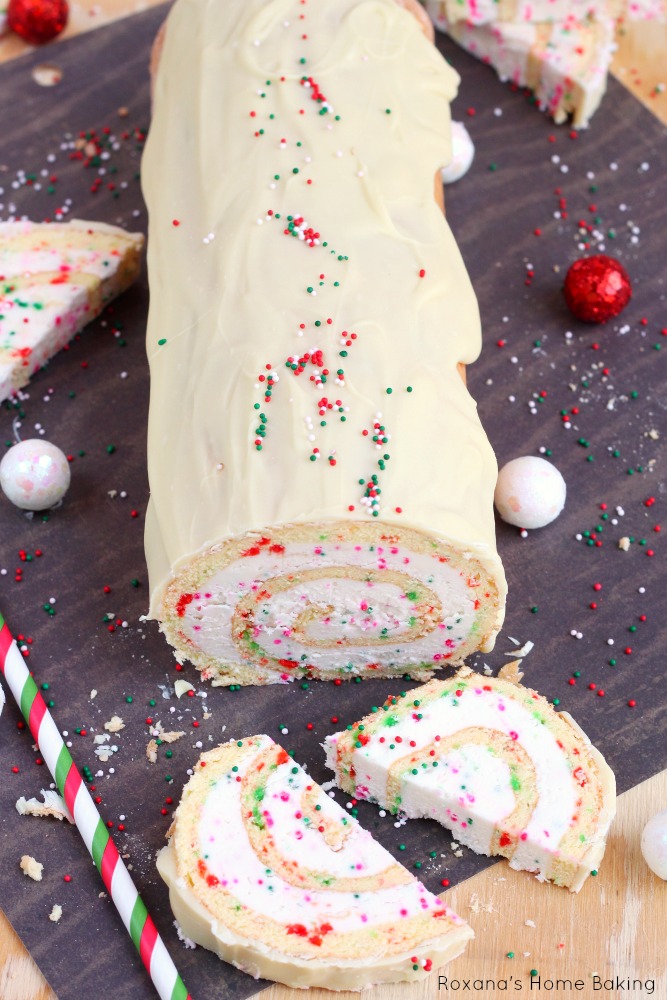 via Christmas Vanilla Roll Cake (A Treats Affair)
Date & Honey Cake With A Cinnamon Orange Glaze (Adventures in Cooking)
This deliciously elegant cake brings all the Holiday feels right into the table! With cinnamon, cloves, dried tarragon and allspice embraced by honey, yogurt and spiced rum, the flavor profile of this cake is up the roof!
Some may like to gorge into this flavorful cake as is. But for foodies who want to kick the Holiday flavors up another notch, cinnamon orange glaze is a surefire way to do it! 
The cake adornments used by A Treats Affair are not edible. If you want to make a version that you can fully eat, decorations and all, you can top the cake with store-brought cake decorations or fresh mint and cherries. 
"The honey adds a rich sweetness to the dish and the diced dates add a wonderful texture and a fun polka-dot-look to the cake slices."
Ingredients:
Date & Honey Cake
2 and 1/2 cups flour
1/2 teaspoon salt
1/2 teaspoon baking soda
3/4 teaspoon cinnamon
1/4 teaspoon cloves
1/4 teaspoon dried tarragon
1/4 teaspoon allspice
3/4 cup butter, melted
2 tablespoons vegetable oil
4 eggs
1 cup honey
1/4 cup plain yogurt
2 tablespoons spiced rum
1 teaspoon vanilla extract
13 dates, pitted and chopped
Cinnamon Orange Glaze
3 cups powdered sugar
4 tablespoons plus 2 teaspoons milk
1/4 teaspoon vanilla extract
1/4 teaspoon orange extract
1/2 teaspoon cinnamon 
via Date & Honey Cake With A Cinnamon Orange Glaze (Adventures in Cooking)
Chocolate-Espresso Buche De Noel (Portuguese Girl Cooks)
This recipe is not just a yummy treat for anyone with a sweet tooth. Since it's a traditional European treat during the Holidays, eating a "Yule log" is a cultural experience in itself - well, at least for foodies. This cake is a sure hit for those who like the flavors of dark chocolate and espresso!
"I'm so happy I made this cake, not only was it delicious but oddly provided me with a bit of comfort during the difficult time around the holidays. I will definitely be making this again for Christmas, and can't wait for my family to taste it!"
Ingredients:
33 grams (3 tablespoons + 2 teaspoons) all-purpose flour
25 grams (3 tablespoons + 2 teaspoons) almond flour/meal (I used Bob's Red Mill)
16 grams (2 tablespoons + 1/2 teaspoon) Dutch processed cocoa powder
123 grams (1/2 cup, about a little less than 3 eggs) whole eggs, see notes
58 grams ( 3 tablespoons + 2 teaspoons, about 3 yolks) egg yolks
111 grams (1/2 cup + 1 tablespoon) granulated sugar
23 grams (1 tablespoon + 2 1/2 teaspoons) granulated sugar
74 grams egg whites (1/4 cup +1 tablespoon, less than 3 whites) -see notes
For the Swiss Meringue Buttercream
4 Egg whites (120g)
1 1/2 tablespoons instant espresso powder
1/2 cup sugar
1/2 cup (packed) dark brown sugar
3 sticks (12 ounces) unsalted butter, slightly cool and cut into 1 tablespoon chances
1 teaspoon pure vanilla extract
pinch of salt
2 ounces melted chocolate of your choice, I used 40.5% good quality milk chocolate
4 ounces semi-sweet chocolate, melted
via Chocolate-Espresso Buche De Noel (Portuguese Girl Cooks)
Make cooking time a lot easier and more enjoyable by using good quality silicone baking mats. Not only are silicone mats sturdy and durable. Because they're non-stick, you can also cut your clean up time in half.