For those of you who stuffed yourselves with too much carbs and sweets this Fourth of July long weekend, you might want to get on a mini-detox this week.
These dinner recipes are not only delicious, but also packed with healthy stuff that your body would thank you for.
Grilled Watermelon Skewers with Feta & White Bean Salad Recipe (Clean Eating)
Smoky flavor of fresh watermelon over tasty greens, feta cheese and white beans makes an antioxidant powerhouse of a salad.
By Clean Eating
Ingredients:
1½ cups cooked cannellini beans, rinsed (or BPA-free canned beans, drained and rinsed)
2 cups packed arugula
1 large shallot, thinly sliced
3 tbsp chopped sun-dried tomatoes
1/2 tbsp extra-virgin olive oil
2 oz feta cheese, crumbled
Sea salt and ground black pepper, to taste
1 seedless watermelon, rind removed and cut into 2-inch square chunks (about 20 chunks)
1/2 cup balsamic vinegar
via Grilled Watermelon Skewers with Feta & White Bean Salad Recipe
Zucchini and Mozzarella Salad Recipe (Thrive Market)
 When it's summertime, the livin' should be easy. Instead of heating up the oven to make dinner, prepare this cool and refreshing salad made with fresh, raw zucchini, zesty lime, and bright herbs. It's great for all those barbecue invites, too.
Ingredients:
3 medium zucchini
Juice and zest of 1 lime
2 tablespoons olive oil
Pinch of sea salt
Pinch of freshly ground pepper
6 ounces small fresh mozzarella balls (ie. bocconcini)
1 bunch basil leaves, torn
1 bunch mint leaves, torn
 via Zucchini and Mozzarella Salad Recipe
Indian Cottage Cheese And Chickpea Pancake Recipe (India Times)
 Staying alone and away from family can make you a lazy person. But it is advisable not to compromise on your healthy food. Here we have got you a delicious vegetarian pancake recipe. It takes no more than 15 minutes and is a quick dinner that is convenient to cook. If you can refrigerate some chopped onions, green chillies and ginger etc. in separate containers before hand it is easier still. This recipe makes a large pancake that serves two. If you want you can have it with a bowl of curd.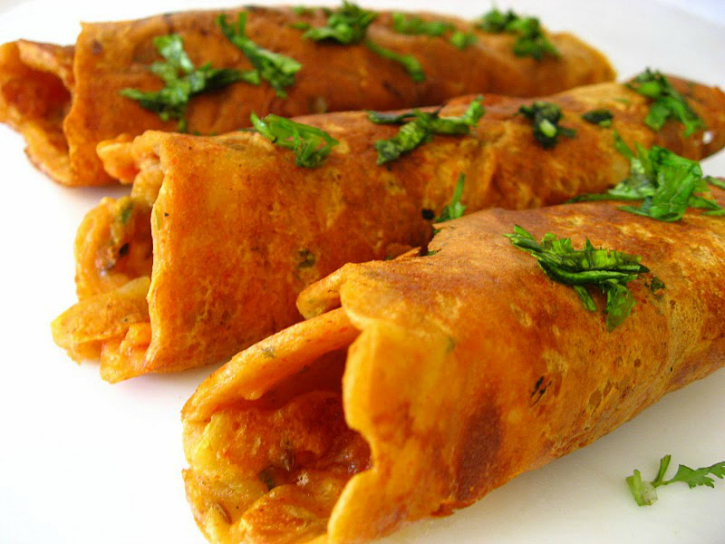 2.bp.blogspot.com
Ingredients:
3/4 cup of Besan (chickpea flour) or a little more as required
3/4 cup of crumbled firm Cottage cheese
1 cup of chopped coriander
3/4 cup of finely chopped onion
1 tbsp of finely chopped ginger
1 tsp or more of finely chopped green chillies
1/2 tsp turmeric
1/2 tsp black pepper powder
salt to taste
1 tbsp Ghee,Olive oil or Sesame oil to cook
via Single's Healthy Dinner Diary: An Indian Cottage Cheese And Chickpea Pancake Recipe
Check out our previous post about healthy yogurt dessert
recipes: 
Yogurt is great for the digestive system because it contains "probiotics" - friendly bacteria that can improve digestive health and boost the immune system.