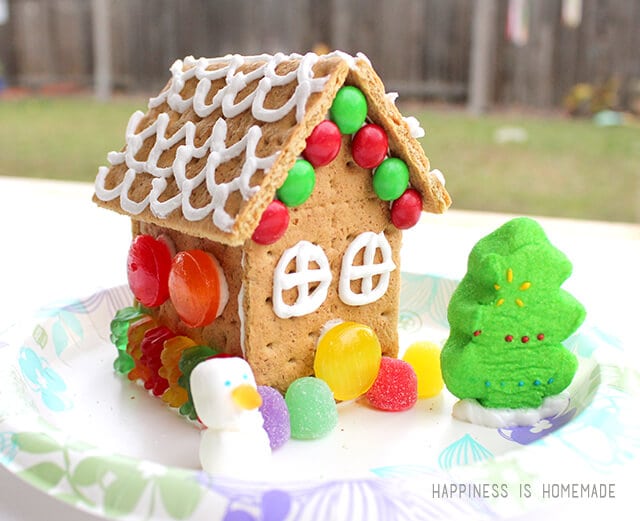 Gingerbread house may be one of the most iconic edible decorations during Christmas! Kids are especially in love with these miniature brown houses decorated with snow-like white royal icing and colorful candies.
Of course, kids would love it even more if they have the chance to make and decorate the gingerbread house. Because let's face it - it's much more fun making these tiny Holiday treats than breaking them and eating the candy piece by piece.
Here are some recipes and a few tips on making your very own gingerbread house this Christmas. For those who would like to try their hand at making an authentic gingerbread house, there's a great recipe from Frog Prince Paperie. For those who want to take the easier route and make "gingerbread" houses from graham crackers, you'll find great tips from Hapiness is Homemade and No Biggie.   
White House Gingerbread (Frog Prince Paperie)
This is a recipe for classic gingerbread that gets its fabulous flavor profile from brown sugar, molasses, ginger and cinnamon. Frog Prince Paperie offers a great step-by-step tutorial from a pro who knows the nitty-gritty of gingerbread making.
If you're a baker who's ready to make a classic yet spectacular gingerbread house right from your own kitchen, there is a lot to learn from this post. 
Ingredients:

2 C granulated Sugar
1 C plus 2 T brown sugar
1 C Crisco solid shortening
3 T molasses
4 eggs
1 ½ t salt
2 t baking soda
6 C flour
1 T ginger
1 T cinnamon
via White House Gingerbread (Frog Prince Paperie)
Graham Cracker Gingerbread Houses (Happiness is Homemade)
If you're not in the mood for some hardcore baking but you still want to have that nice, homemade gingerbread house that kids can decorate, it's a great idea to make your edible walls and roofs using gingerbread.
With a color akin to gingerbread, it's the perfect substitute for the real thing. Plus, the houses you would make with graham crackers are a lot smaller than a classic gingerbread, so each kid can decorate his or her own house. 
"Each year we get together with our friends and classmates to decorate gingerbread houses, and it has become one of my favorite holiday traditions. Holiday baking and decorating is always more fun when you do it with friends!"
What you'll need:
Honey Maid Graham Crackers – 5 per house
Royal Icing
Paper Plate or Cardboard
Bread Knife or Serrated Knife
Disposable Piping Bag
Assorted Candy, Pretzels, Dried Fruit, Etc. for Decorating 
Ingredients for royal icing:
3 cups of powdered sugar
2 eggs whites
1/4 tsp of Cream of Tartar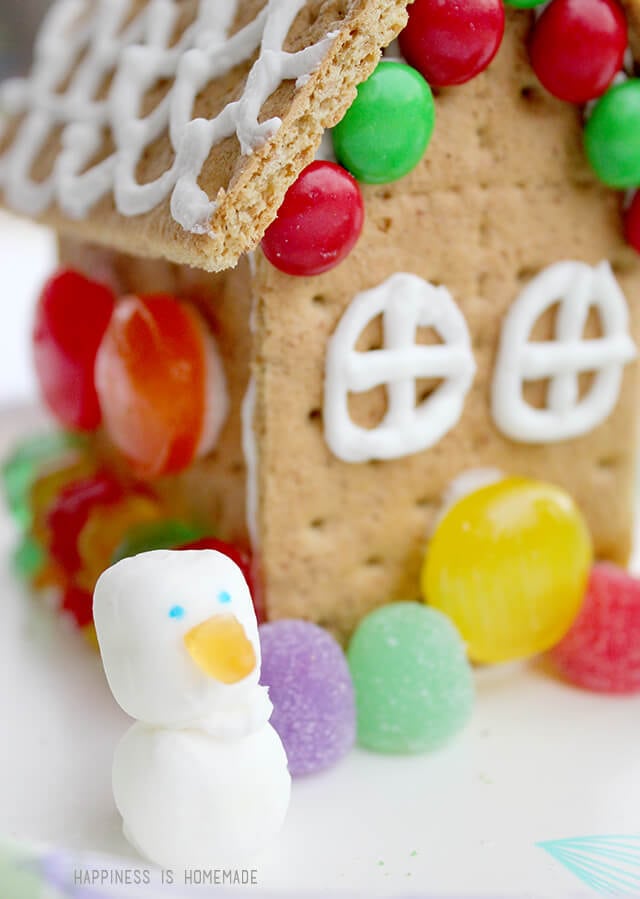 via Graham Cracker Gingerbread Houses (Happiness is Homemade)
Tips for Gingerbread House making (No Biggie)
No Biggie offers great tips for making graham gingerbread house. But heads up foodies - your masterpiece may not be edible upon following the tips on the list. No Biggie suggests using hot glue for securing corners of graham crackers, making eating these babies a no go. You can ignore that tip of course, if you plan on gorging on your gingerbread houses.  
"I've come up with a few helpful tips to make this tradition easy and easier on the budget."
Use Graham Crackers
Hot Glue
Mount the house to a cardboard base
Shop the bulk candy section
Have little squeeze bottles ready
via Tips for Gingerbread House making (No Biggie)
Make Christmas baking a lot easier and more enjoyable by using good quality silicone baking mats. Not only are silicone mats sturdy and durable. Because they're non-stick, you can also cut your clean up time in half.