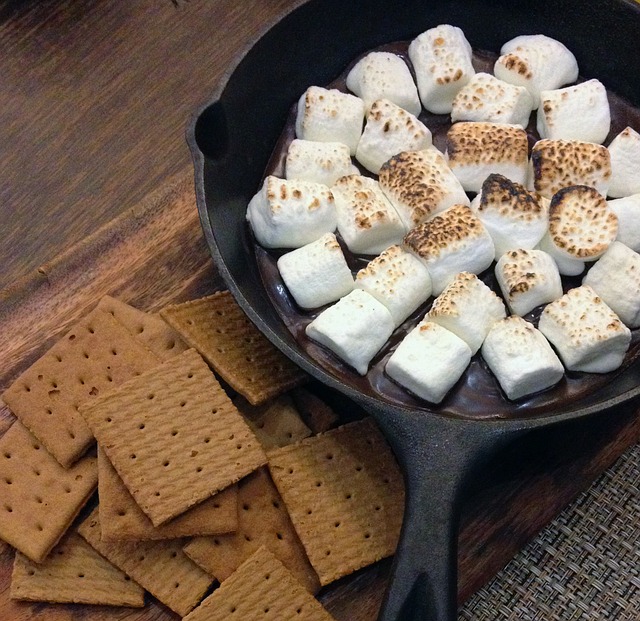 Public Domain from pixabay
What tastes better than a marshmallow? How about a toasted marshmallow! There's something about melty, caramelized and slightly charred piece of marshmallow that's just too hard to resist.
S'mores could be the first thing that comes to mind when speaking of toasted marshmallows. But the truth is, there are many other ways to enjoy the caramelized treat. If you're planning to do some serious marshmallow toasting in the oven, it may be wise to invest in a good quality non-stick mat for easy clean up.

Toasted Honey Marshmallow with Peaches (Sweet Laurel)
Ingredients:
1 cup water (divided)

3 tablespoons grass fed beef gelatin powder (for vegan, use soy based gelatin)

1 cup honey (because it's being cooked, it doesn't have to be raw)

1 teaspoon vanilla extract

1/4 teaspoon Himalayan pink salt

1 tablespoon Arrowroot powder + extra for sprinkling the knife

4 large ripe peaches
via Toasted Honey Marshmallow with Peaches \\ Sweet Laurel
Easy Toasted Marshmallow Ice Cream (Home Cooking Memories)
Author: Brandie Valenzuela
Ingredients:
10 ounces marshmallows, regular size
1½ - 1¾ quarts vanilla ice cream
via Easy Toasted Marshmallow Ice Cream Recipe
How to Make Smores Fireball Shots (Wide Open Country)
"It's safe to say that at any good backyard bonfire you're likely to also find two other things: smores and alcohol. So, why not combine the two? Thanks to this S'mores Fireball Shots recipe from Delish, you now can."
"The perfect combination of marshmallow goodness, cinnamon and chocolate, these tasty treats are sure to be a crowd-pleaser at your next gathering. Plus, the recipe is super easy (and doesn't require any foraging for roasting sticks!)." 
Ingredients:
Fireball Whisky

Chocolate Liqueur

Vanilla Schnapps

Marshmallow Fluff

Graham Crackers (crushed)
via How to Make Smores Fireball Shots