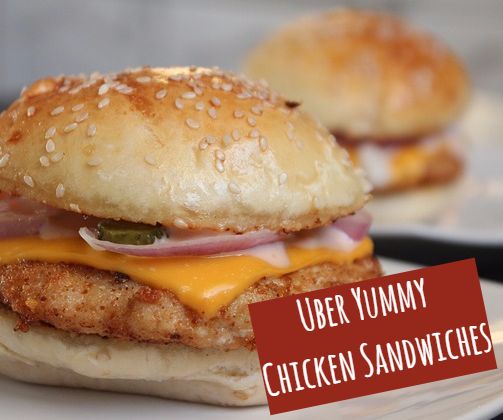 Chicken sandwich may be one of the most popular items on the regular lunch menu. Though many food joints offer a lot of yummy varieties, making your own makes a chicken sandwich all the more exciting!
The great thing about chicken sandwich is that, it can accommodate a lot of different flavors and textures. Think of bread and chicken as your very own canvass - mayo or a mustard dressing? Chunky pineapple, crisp apple cubes or juicy pieces of grapes? Gooey mozzarella or crumbly feta? The possibilities are endless!
Below are some of the most popular chicken salad sandwich recipes online. Take time to browse them and try making your favorite version this week.
If you prefer baked chicken fillet instead of fried to avoid those extra calories, it would be a good idea to invest in a high-quality non-stick baking mat which will help you cook meat in the oven minus additional oil. You can also use the mats if you like toasting your sandwich before biting right into it! 
Lighter Chicken Salad Sandwiches (Love Bakes Good Cakes)
"I'm a bit fan of fruits and various textures in my chicken salad. Instead of using traditional mayonnaise, I made it a bit better for you by substituting Greek yogurt. I also swapped out my usual Oroweat® Whole Grains Sliced Breads for the new Oroweat® Healthfull® bread - have you seen it in your local markets? I went with the nuts and seeds variety because it sounded perfect for my Chicken Salad sandwich! :)"
Ingredients: 
1 cup PLAIN Greek Yogurt
1 tsp. paprika
1 tsp. seasoning salt
4 cups cooked and shredded chicken
1 cup diced apple
1 cup grape halves or quarters
½ cup dried cranberries
½ cup diced red onion
½ cup chopped celery
½ cup toasted pecans
Ground pepper, to taste
Any variety Oroweat® Healthfull® bread
Lettuce leaves, washed and dried (optional)
via Lighter Chicken Salad Sandwiches
Low Calorie Chicken Salad Sandwiches (GIVEAWAY)
"Delicious, fast & easy to make, lightened-up (lower calorie) chicken salad sandwiches with no mayo and no Greek yogurt on delicious potato buns!"
Author: Chelsea
Ingredients:
3 cups chopped rotisserie chicken (skin removed)*
3/4 cup sliced celery (~4 stalks)
1 cup sliced red grapes
1/2 cup sliced almonds
1/2 cup dried cranberries (I like cherry flavored)
Reduced-fat ranch dressing
Salt and pepper
1 tablespoon poppyseeds
Martin's Sandwich Potato Rolls
Green leaf lettuce, 6-8 pieces
via Low Calorie Chicken Salad Sandwiches (GIVEAWAY)
Curry Chicken Salad Sandwiches (From Valerie's Kitchen)
"Grab a rotisserie chicken next time you visit the store and mix up this easy Curry Chicken Salad. These sandwiches are perfect for lunch or a light summer dinner."
"It's so convenient to have an easy to assemble lunch ready and waiting for the random assortment of people wandering through my house in the summer months. Having a fresh batch of chicken salad in the fridge is always a good thing, especially when it is this delicious Curry Chicken Salad."
"This recipe has a lot going on from the creamy curry dressing, the sweet, chewy bite of golden raisins, and a bit of texture from finely diced red onion and celery. It all works together in a glorious way."
2 to 2-1/2 cups cooked, chopped chicken (I used rotisserie chicken)
1/3 cup golden raisins
1 stalk celery, sliced
1/4 cup diced red onion
2 tablespoons chopped fresh Italian parsley
1/2 cup mayonnaise (light or regular)
1/2 cup plain Greek yogurt
4 teaspoons curry powder
2 teaspoons sugar
1/2 teaspoon salt
fresh ground black pepper, to taste