Healthy - now that's a word you wouldn't normally use to describe cookies! But wait, actually, you can make healthy cookies with just a little more creativity and effort. We know that the Holiday season is a time for calorific feasts (all those Christmas parties can sure pack up the extra pounds), but having satisfying treats doesn't always mean you have to be guilty about it afterwards.
Here are three cookie recipes that are much healthier than their usual counterparts. These babies use healthier ingredient substitutes but they never fall short on flavor.  
Healthy Sugar Cookies (Chocolate Covered Katie)
These healthier version of the regular sugar cookies uses healthier sweetening agents such as coconut sugar and evaporated cane juice instead of the regular sugar. Whole wheat pastry flour or spelt flour is also used in place of white flour. And for butter, a low-calorie buttery spread.
These substitutions may seem small, but you'll be amazed at how they can make yourl cookies so much healthier!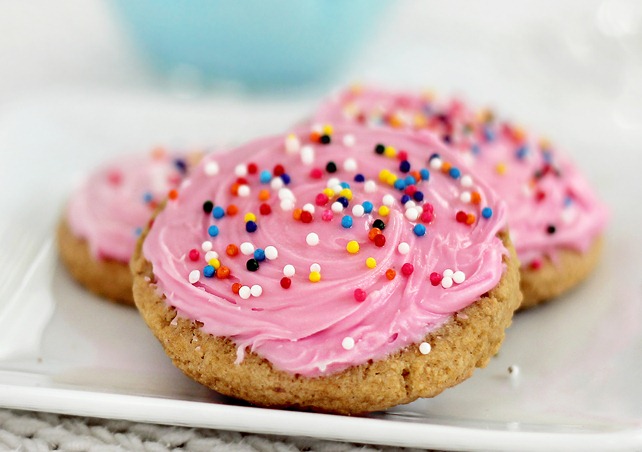 "This healthy sugar cookie recipe fulfills all of the above requirements… and yet these cookies are whole-grain, lower in sugar, and cholesterol-free at the same time."
Ingredients:
3/4 cup spelt,  ww pastry, or all-purpose flour
1/4 tsp baking powder
1/4 tsp salt (just under level)
1/4 tsp plus 1/8 tsp baking soda
1/4 cup white sugar, or sucanat, coconut sugar, or evaporated cane juice (or xylitol for a sugar-free version)
1/2 tsp pure vanilla extract
1 and 1/2 tablespoons milk of choice
1/4 cup butter-type spread, such as Earth Balance (Some readers say you can use coconut oil, but I haven't tried it. I wouldn't recommend using a low-fat buttery spread.)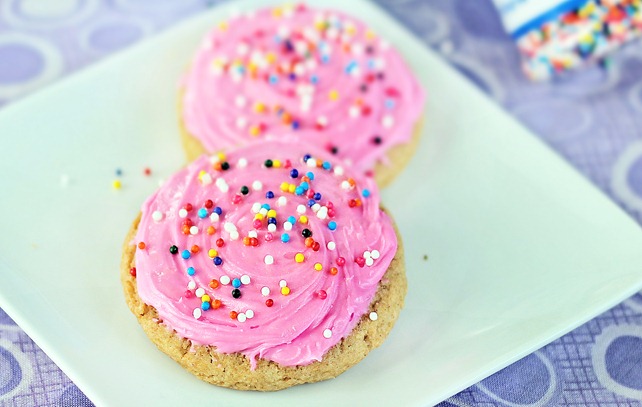 via Healthy Sugar Cookies (Chocolate Covered Katie)
Healthy Chocolate Chip Cookies (DIY Natural)
This recipe will surely be a hit among choco chip cookie lovers. The combination of apple source, honey, oats, nutmeg and cinnamon almost makes this cookie somewhat similar in flavor to a healthy granola bar.
Take the health factor to the next level by substituting regular butter with the low-calorie kind, and you'll have a batch of lovely cookies that are not only yummy but also guilt-free!
"We now enjoy this dessert masterpiece not only after meals but also as a snack and even as an occasional quick breakfast." 
Ingredients:
¾ cup unsweetened apple sauce
½ stick butter 
¾ cup raw honey 
2 tsp. pure vanilla extract 
1 egg
1 egg white 
1 ½ cups organic white wheat flour 
1 cup organic whole rolled oats 
¼ tsp. ground nutmeg 
¼ tsp. ground cinnamon 
1 tsp. baking soda 
1 tsp. sea salt 
via Healthy Chocolate Chip Cookies (DIY Natural)
Linzer Torte Thumbprint Cookies (Lexi's Clean Kitchen)
What's great about this cookies is that it raw honey and applesauce for sweetness. And because of the natural flavors of vanilla extract and almond extract, you don't really need to add more sugar because the flavor profile is superb as it is.
Make your batch a lot more wholesome and truly your own by using homemade jam instead of store-brought kind!
"Linzer torte cookies sort of remind me of hamantaschen (a Jewish cookie) minus the almond-y flavor. I love them both. I also love thumbprint cookies. Now I am in love with the 3 cookies combined! "
Ingredients:
2 1/2 cups blanched almond flour
1/4 cup raw honey
1 egg
1 tsp vanilla extract
1 tsp almond extract
2 tbsp coconut oil
2 tbsp apple sauce
1 tsp baking soda
Dash himalyan sea salt
5-6 tbsp homemade or store-bought jam
via Linzer Torte Thumbprint Cookies (Lexi's Clean Kitchen)
Make cooking time a lot easier and more enjoyable by using good quality silicone baking mats. Not only are silicone mats sturdy and durable. Because they're non-stick, you can also cut your clean up time in half.