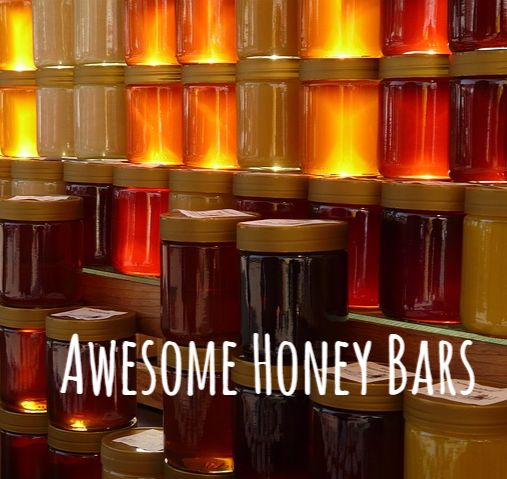 Energy bars are more fun when made with honey! 
With store brought kinds laden with preservatives, chemicals and what-have-you, making a batch of energy bars right in your own kitchen is never a bad idea.
Here are a few of our favorite honey bar recipes that are a breeze to make in the kitchen with the help of a silicone baking mat. Its non-stick surface is perfect for sticky sweets like energy bars. Enjoy!

Salted Honey Walnut Bars (Sugar Hero)
"The flavor and texture are both perfectly balanced, and although the ingredient list would have you believe that these are a painfully sweet bar, somehow the salt and the dark chocolate combine to make them not at all cloying."
Ingredients
For the Crust:

9 oz (2 cups) all-purpose flour

4 oz (1 cup) powdered sugar

8 oz (1 cup) unsalted butter, at room temperature
For the Filling:

6 oz (12 tbsp) unsalted butter, cubed

7½ oz (1 cup) packed brown sugar

12 oz (1 cup) honey

10 oz (2½ cups) walnuts, toasted and coarsely chopped

4 oz (1/2 cup) heavy cream

2 tsp vanilla extract

¾ tsp kosher or fine sea salt

4 oz semi-sweet chocolate

½ tsp large flaked sea salt, for finishing
via Salted Honey Walnut Bars (Sugar Hero)
Oats & Honey Granola Bars (Five Heart Home)
"These homemade, all-natural Oats and Honey Granola Bars are baked until slightly crunchy, making them perfect for breakfast-on-the-go or as a wholesome, portable snack."
Ingredients:
3 1/4 cups old-fashioned rolled oats

3/4 cups crispy rice cereal

2/3 cups oat flour (see Tips & Tricks below) OR whole wheat pastry flour

3 tablespoons brown sugar

3/4 teaspoon baking soda

3/4 teaspoon salt

2/3 cup honey

1/3 cup melted coconut oil

2 teaspoons pure vanilla extract
via Oats & Honey Granola Bars (Five Heart Home)
Oats 'N Honey Bars (Half Baked Harvest)
"Oh, and they are SO easy. Like you need nine simple ingredients that you probably have on hand right now,  five minutes of prep time and a little love from the oven."
Ingredients:
1 1/2 cup rolled oats (use gluten free oats for a gluten free version)

1/2 cup rice crispies cereal

3 tablespoons cornmeal

Pinch of salt

1/4 teaspoon baking soda

1/4 cup honey

2 tablespoons canola oil or I like to sometimes use coconut oil

3/4 teaspoon vanilla extract

1/2 tablespoon brown sugar