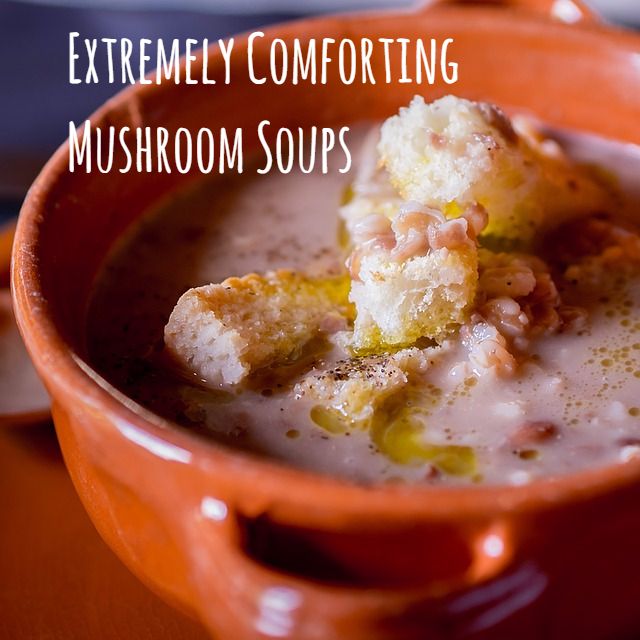 Mushroom soups are extremely comforting. There's something about its earthy flavor that could melt even the most severe stress. In short, there's no emotional and physical exhaustion that a warm bowl of mushroom soup couldn't cure!
Here are some of our most favorite mushroom soup recipes from the net that we hope you'll adore as well.
If you're a fan of mushroom soup or any kind of creamy soup for that matter, it would be a good idea to buy silicone baking mats which can be used in making delicious croutons. Making croutons using silicone mats can cut your clean-up time in half, allowing you to focus more on relaxing after a long day.

Creamy Wild Rice & Mushroom Soup (Oh My Veggies)
"This soup was exactly what I needed when I was feeling sick. It reminded me of home, of chilly winters, of snow soaking through my boots and numb toes–okay, maybe I don't miss everything about the Midwest. But it did remind me of the food I grew up on. Total comfort food."
Ingredients:
1 tbsp. olive oil

1 lb. white or cremini mushrooms, sliced

1 c. celery, chopped

1 c. carrots, chopped

1 medium shallot, chopped

1/4 c. all-purpose flour

salt + pepper to taste

1/3 c. white wine

1 tsp. dried thyme

4 c. vegetable broth

1 c. instant or quick-cooking wild rice

3/4 c. reduced-fat sour cream

2 tbsp. chopped fresh parsley
via Creamy Wild Rice & Mushroom Soup (Oh My Veggies)
Porcini Broth (NY Times)
Ingredients:
¼ cup crumbled dry porcini (about 4 grams)

1 small onion, sliced

6 scallions, roughly chopped

1 celery stalk, roughly chopped

1 carrot, roughly chopped

1 bay leaf
Mushroom Soup (Natasha's Kitchen)
"This mushroom soup boasts 2 pounds of fresh mushrooms, so if you're a mushroom lover like myself, this soup is for you. It is so simple to make and everything is in a light cream broth so you still get some creaminess without the heaviness of many cream soups."
Ingredients:

8 cups water

2 cups chicken or vegetable broth

3-4 medium potatoes, peeled, diced and rinsed

2 lbs mushrooms, sliced

2 cups half & half (or 1 cup milk + 1 cup heavy cream)

4 Tbsp flour (add 5 Tbsp if you like a creamier soup)

1 medium onion, finely diced

1 large carrot, grated

3 Tbsp butter

2 Tbsp mushroom seasoning (or 1/2 Tbsp Mrs. Dash, or vegetable seasoning *see note)

Salt and black pepper to taste

1/3 cup chopped parsley or dill or both