Some people are intimidated by the thought of eating and staying healthy. One of the common notions about eating healthy is that it takes up time to prepare your own healthy meals.
But worry not! Preparing healthy lunches doesn't need to be stressful. These salad in a jar recipes are the perfect way to eat fresh, low-calorie lunches by just tipping a jar onto a plate! It's cheap, easy to make, and best of all, it can help you lose those extra pounds you gained during the holidays.
All you need is a jar, some fresh fruits and veggies, and you're good to go!
Salad in a Jar (Hurry The Food Up)
Hurry The Food Up has a great recipe that is more of a guideline for a 6-layer salad. The key to a fresh salad in a jar is to keep the wet and heavy ingredients at the bottom and pile the light, leafy ingredients on top.  
"The idea is pretty simple: start with filling a dressing into a jar and then layer various ingredients like greens, veggies, rice and cheese on top. Keep those jars in the fridge until you need them. Grab a bowl and empty the jar. The dressing will then cover the whole salad. Done."
Ingredients:
Layer 1: your favourite dressing
Layer 2: tomatoes, cucumbers, red onion, asparagus, celery, peppers, carrots
Layer 3: mushrooms, zucchini, beans, lentils, peas, corn, broccoli
Layer 4: boiled eggs and cheese (feta, gouda, cheddar etc.)
Layer 5: rice, pasta, quinoa or couscous
Layer 6: nuts and greens as lettuce, spinach or arugula.
via Salad in a Jar (Hurry The Food Up)
Chopped Black Bean and Corn Mason Jar Salad (Organize Your Self Skinny)
If you're in the mood for some Mexican grub, ditch those calorific chimichangas for a healthy, Mexican-inspired mason jar salad. This recipe borrows its yummy goodness from salsa, black beans, and pepper jack cheese. You can use low-calorie cheese instead of pepper jack to make your salad healthier.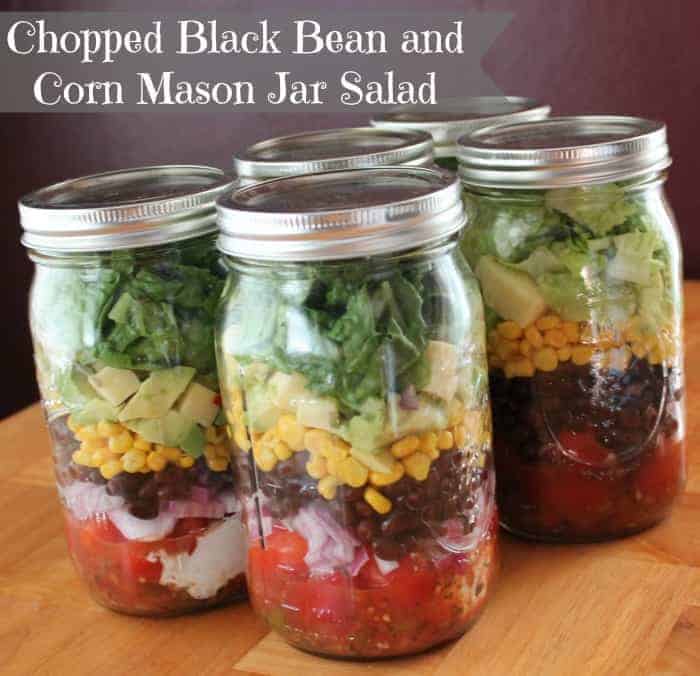 "I make the same kind week after week – balsamic dressing, tomatoes, cucumbers, chicken or turkey, and baby spinach or this one. As much as I like those flavors I was getting a little bored so I decided to switch it up."
Ingredients:
5 wide mouth quart size mason jar salads
1 ¼ cup salsa
1 6 ounce container plain greek yogurt
1 quart cherry tomatoes, halved
1 red onion, chopped
2 cans black beans, drained and rinsed
1 12 ounce package frozen corn, thawed
2 avocados, peeled and chopped
5 ounce block pepper jack cheese, cut into small cubes
4-5 cups chopped romaine lettuce
¼ cup or more chopped cilantro (optional)
via Chopped Black Bean and Corn Mason Jar Salad (Organize Your Self Skinny)
Mason Jar Zucchini Pasta Salad (Sugar Free Mom)
This is a great, refreshing salad perfect for those who like creamy salad dressings. The dressing is mostly made of Greek yogurt, olive oil and avocado, and it's a lot healthier than creamy store-bought kind. Plus, you can adjust the taste to your liking! 
"This is my first mason jar recipe for you on the blog and I'm loving how it easily stores in the fridge and lasts quite a few days. Wonderful to travel with and take on the go!"
Ingredients:
1 1/2 cups spiraled zucchini
1/2 cup shelled edamame
1/2 cup sliced celery
1/2 cup chopped red bell pepper
1/2 cup cherry tomatoes
Optional:
1/4 cup feta cheese
2 tablespoons kalalmata olives
Avocado Spinach Dressing
1/2 cup fresh packed spinach
1/2 ripe avocado
juice of 1 lemon
2 tablespoons extra virgin olive oil
2 tablespoons Greek yogurt, plain, 2%
1/2 teaspoon salt
1/4 teaspoon pepper
via Mason Jar Zucchini Pasta Salad (Sugar Free Mom)
Want to make healthy croutons for your salad? Make healthy cooking a lot easier and more enjoyable by using good quality silicone baking mats. Not only are silicone mats sturdy and durable. Because they're non-stick, you can also cut your clean up time in half.