New Year, New Body! There's no use crying over calorific feasts and extra pounds you got during the Holiday season. Forget the mishaps of the past and turn over a new leaf this year to get your health and waist line back on track.
The great news is, you're not alone on your health conquest as the new year begins. In fact, gym subscriptions surge after the Holiday season - this proves that getting fit and healthy is at the top of many people's list of New Year's resolutions.In short, it's the perfect time to eat right, exercise, and be the healthiest you can be!
Here are low-calorie vegan salad recipes to help you get started with your detox from all the roasted meat you had during the Holidays.
Tofu Amaranth Salad (101 Cookbooks)
This salad is full of leafy goodness from gem lettuces and amaranth leaves. These two veggies make up most of the salad, making this dish the perfect low-calorie meal for dinner. If you get your hands on these leafy vegetables, you can substitute baby romaine lettuce for gem lettuces and red lettuce or spinach for amaranth leaves.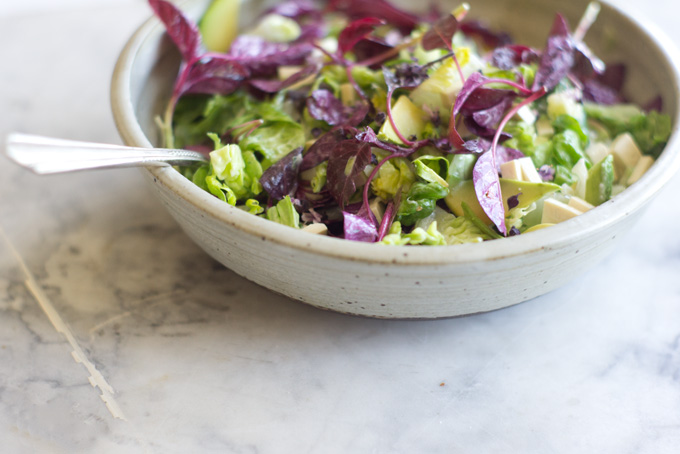 "The salad was inspired by two things. I wanted to make something with crunch, structure, and creaminess to go along (or inside) the paper-thin chive pancakes. And, I wanted something fresh, with a nice protein component - enough to make a meal of." 
Ingredients:
1/2 small clove garlic, peeled
1/4 teaspoon red chile flakes
1/4 teaspoon fine grain sea salt, plus more to taste
1 tablespoon sunflower oil

4 scallions, thinly sliced 

2/3 cup / 160ml coconut milk (full fat)

2 tablespoons fresh lemon juice, plus more to taste
2-3 heads of little gem lettuces, cored and sliced into 1/2-inch ribbons
a handful of amaranth leaves, or red lettuce, or spinach
12 ounces extra firm tofu, pat dry and cut into tiny cubes
1 small handful of basil leaves
1 small avocado, thinly sliced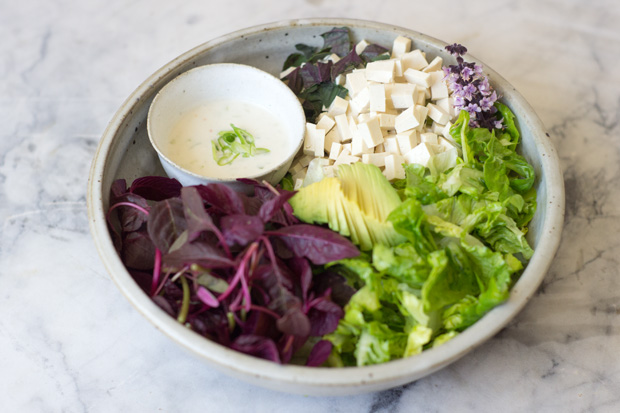 via Tofu Amaranth Salad (101 Cookbooks)
Superfood Black Bean & Quinoa Salad (Elizabeth Rider) 
This is a great lunch salad especially if you have a full afternoon ahead. The quinoa and black beans make this dish filling and satisfying. It is also packed with fiber and protein, giving you the energy boost you need for the rest of the day. The flavor profile of this salad is as rich as they come! With cumin, cilantro, lime, cayenne pepper and green onions, this salad is the opposite of bland and boring.
"Everything in this salad is extremely good for you so fill up on it and your body will thank you. Quinoa has the texture of a grain but is actually a seed, and a complete protein at that. It's filled with nutrients and along with the other ingredients here this salad is highly nutritious and highly delicious."
Ingredients:
2 cups cooked quinoa (1 cup dry quinoa yields about 2 cups cooked)
1/4 cup extra virgin olive oil
1 teaspoon ground cumin
1 clove garlic, pressed, grated or finely chopped
Juice of one lime (about 2 tablespoons)
1 teaspoon fine sea salt
1/4 teaspoon cayenne pepper (optional for heat)
1 15 ounce can black beans, rinsed and drained well
1 red bell pepper, quarter inch chopped (about 1 cup)
6 green onions, root removed, white and part of the greens chopped (about 1 cup)
1 handful of cilantro, rough chopped (about 1/3 cup)
via Superfood Black Bean & Quinoa Salad (Elizabeth Rider)
Asian Tofu Salad (Hurry The Food Up)
If you're craving for Asian flavors but your calorie credits are not enough for a bowl of stir-fried tofu or fried rice, then whip up a bowl of this delicious salad instead. It has healthy and low-cal veggies like bean sprouts, radishes, cucumber and spinach. And the dressing - just reading the ingredients list will make your mouth water! Make this vegan salad extra healthy by ditching the canned pineapple for fresh slices of the fruit from the grocer.
"Another reason why I had to try out this tofu salad (thanks to Jamie Oliver for the inspiration) was that I was looking for a vegan dish that is high in protein and low in carbs at the same time. You won't believe how difficult that is to find! But I was successful: for 450 calories you get 18g of protein and just 37g of carbs! I dare you to show me a vegan dish with similar stats!"
INGREDIENTS:
400g firm tofu (one block)
1 cup bean sprouts
½ bunch of radishes
Half a small cucumber
A handful of spinach
A small tin of pineapple (8 oz/ 225g) or ¼ of a ripe one
For the dressing
3 tbsp olive oil
1 tbsp maple syrup
1 tsp sambal oelek (or sriracha/equivalent)
Juice of half a lime or lemon
Half a chili pepper (jalapeño)
A small handful of peanuts
Salt and pepper
via Asian Tofu Salad (Hurry The Food Up)
Make healthy cooking a lot easier and more enjoyable by using good quality silicone baking mats. Not only are silicone mats sturdy and durable. Because they're non-stick, you can also cut your clean up time in half.