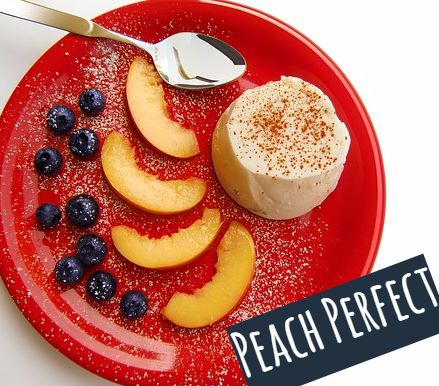 There's just something about peaches that makes us happy - it might be its bright, sunny color, or its succulent sweetness that wakes up the palate. Whatever it is, peach is a fruit that we love in our baked goodies!
Here are some recipes that highlight the flavors of peaches. There's still a few days left in the month of August, so you can still celebrate National Peach Month! With or without occasion, these peach treats are a blast to enjoy with the whole family.
If you're fond of making peach hand pies or peach turnovers, it would be a great idea to purchase a silicone mat for baking. Because of its non-stick surface, it's easier to make perfectly-baked hand pies right in your own kitchen! 
Peach Slab Pie Recipe(She Wears Many Hats)
"All this to say, the peach is truly a beautiful, sweet, downright scrumptious fruit, most worthy of a few states vying to claim it as their very own. So wherever you happen to be, hunt down some ripe peaches while they are in season. Fresh ripe peaches are remarkable when in season. If you are able to get your hands on some, whip up this easy Peach Slab Pie. It's the perfect place for fresh peaches and oh so easy to make."
Ingredients:
3/4 cup packed brown sugar
2 tablespoons cornstarch
1 teaspoon ground cinnamon
1/4 teaspoon ground ginger
1/8 teaspoon kosher salt
6 cups fresh sliced peaches
2 tablespoons lemon juice
2 rectangular pieces of pie dough rolled out to approximately 11×14-inches*
1 egg, beaten
via Peach Slab Pie Recipe | She Wears Many Hats
Peach Pie Pancakes (Amy's Healthy Baking)
"A healthy recipe for pancakes with the same sweet flavor as peach pie! Quick, easy & packed with 8g+ of protein!"
Ingredients:
1 cup (120g) white whole wheat flour or gluten-free* flour (measured like this)
1 ½ tsp baking powder
¾ tsp ground cinnamon
¼ tsp salt
1 tsp unsalted butter or coconut oil, melted
2 tsp vanilla extract
½ cup (120g) plain nonfat Greek yogurt
¾ cup (180mL) nonfat milk
½ cup (100g) finely diced peaches (fresh or canned in 100% juice and drained)
Peaches and Cream Icebox Pie (Taste of the South)
Fresh peaches make this dessert a summertime standout. Find it in our Southern Pies & Icebox Desserts special issue. 
Ingredients:
11⁄2 cups gingersnap crumbs (about 30 cookies)
1⁄2 cup butter, melted
1 (3-ounce) package cheesecake-flavored instant pudding and pie filling mix
11⁄2 cups whole milk
1 (8-ounce) container sour cream
1⁄2 cup peach preserves, divided
1⁄2 cup chopped fresh peaches
Garnish: sweetened whipped cream, fresh mint leaves