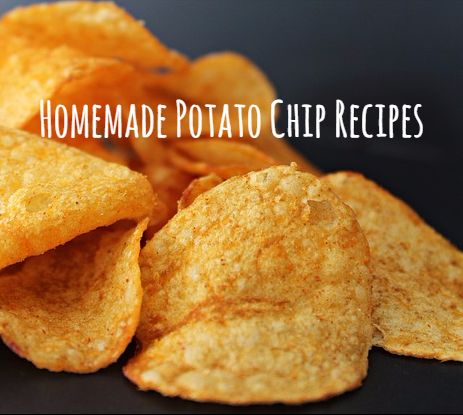 Though it's easy to pick up a bag of potato chips at the grocery, there are so many upsides to making your own batch at home. In fact, we're giving you three reasons why you should try your hand at making your own crunchy chips.
Number one, you can add your favorite spices to it such as Steamy Kitchen's Sweet Smokey Paprika & Cumin. Two, you can make your chips extra flavorful with your choice herbs just as Eat The Love recommends. And three, you can bake instead of frying, just as Home Cooking Adventure does it.
If you prefer baked instead of fried potato chips to avoid extra calories, it's a great idea to use silicone baking mats. The non-stick surface allows you to bake chips perfectly without using extra oil.

Light as Air Potato Chips with Sweet Smoky Paprika & Cumin Aioli (Steamy Kitchen)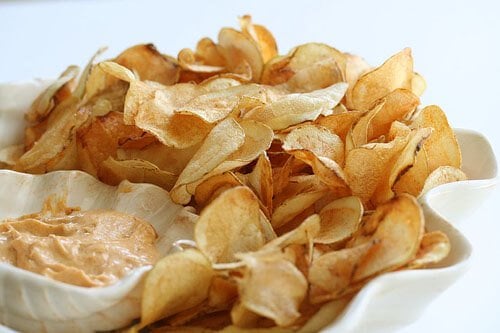 "The biggest secret to making light as air potato chips is to soak the potato chips in water to wash away the excess starch. You can even soak them overnight." 
Ingredients:
For the Chips:
1 large russet potato for every 2 people
oil for deep frying
salt
For the Dip:
Dip (Sweet Smoky Paprika & Cumin Aioli)
1 cup good mayonnaise
1 tsp cumin
1 tsp smoked sweet paprika
1 large garlic cloved, minced with garlic press
1/2 tsp salt
freshly ground pepper
via Light as Air Potato Chips with Sweet Smoky Paprika & Cumin Aioli (Steamy Kitchen)
Potato Chips (Eat The Love)
"The trick to making these ridiculously easy homemade potato chips is to use Yukon gold potatoes. Don't try it with Idaho russets or Red potatoes. The Yukon has the right balance of starch and waxiness that allow them to first soften and cook as the oil comes to a boil, and then crisp without becoming tough and leathery."
Ingredients:

2 to 3 Yukon Potatoes (medium sized)
6 cups cooking oil (see headnote above for recommendations)
salt and pepper to taste
1- 2 teaspoons chopped fresh herbs of your choice for seasoning (optional)
via Potato Chips (Eat The Love)
Homemade Baked Potato Chips (Home Cooking Adventure)
"This is an easy recipe for homemade baked potato chips, a healthier option to traditional fried potato chips. Probably one of the best snacks ever without feeling the guilt. Line the potato slices in one layer and bake until crisp and golden brown."
Ingredients:

3 medium red potatoes, peeled
salt and freshly ground black pepper
garlic, herbs, optional
1 or 2 tbsp oil