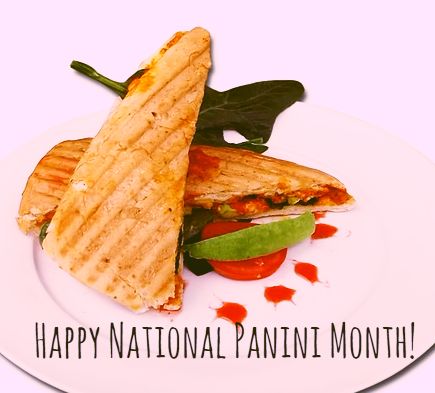 It's no wonder why everyone loves panini - it's melty, toasty, crispy on the outside, and packed with your favorite sandwich fillings!
If you don't have a panini press at home, don't fret! You can still enjoy homemade panini using your oven, a baking sheet, a silicone mat and a turner. 
Simply place the sandwich on a baking sheet lined with a silicone mat. Brush top with butter (this is just for flavor and crispiness of the crust, so just a few drops would be enough if you're watching your weight) and press sandwich with a turner. Once the top is golden brown, flip the sandwich and brush the other side with butter before pressing again and returning to the oven. Wait until the other side becomes golden brown in color. Voila! An oven-baked panini!  

Waffle Iron Turkey Melt Panini Recipe (My Recipes)
Photo: Jennifer Causey Styling: Lindsey Lower
"This playful turkey melt's abundant crisp crevices and gooey interior will have the whole family wondering, 'What can we waffle next?'"
Ingredients:
4 center-cut bacon slices

3 tablespoons canola mayonnaise

1 teaspoon Dijon mustard

8 (1-ounce) slices whole-grain or whole-wheat bread

8 ounces unsalted sliced deli turkey (such as Boar's Head)

8 (1/8-inch-thick) slices tart apple (such as Granny Smith)

4 (1-ounce) slices reduced-fat colby-Jack cheese

Cooking spray
Grilled Pesto Panini Sandwiches Recipe (Walking on Sunshine)
"Name a sandwich that brings back happy memories. Go on...take a minute.  For me, it's grilled cheese sandwiches. I have always love them and my husband loves them too and we even enjoy them for dinner at least once a week."
Ingredients:
Bread
Mozzarella Cheese; sliced
Sun Dried Tomato Pesto
Basil Pesto
Tomatoes
Butter
via Grilled Pesto Panini Sandwiches Recipe
Cheese Steak Panini Recipe (The Best of Life Magazine)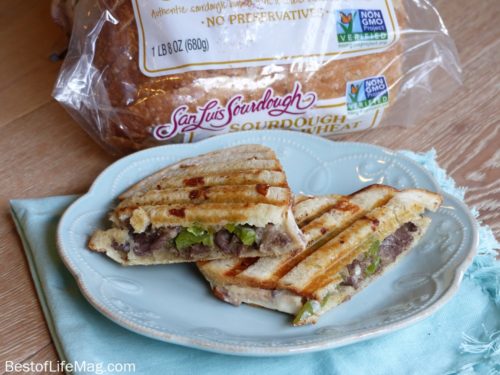 "This cheesesteak panini recipe is easy to make and the leftovers can be used in many different ways if desired!"
Ingredients:
1 Loaf San Luis Sourdough bread

2 pounds skirt steak or ribeye steak (thinly sliced)

2 tablespoons vegetable or canola oil

1 green bell pepper cut into thin bite strips

1 medium brown onion cut into thin bite strips

8 medium cremini or button mushrooms (thinly sliced)

1/2 teaspoon salt

1/8 teaspoon pepper

8 slices white American cheese

Butter