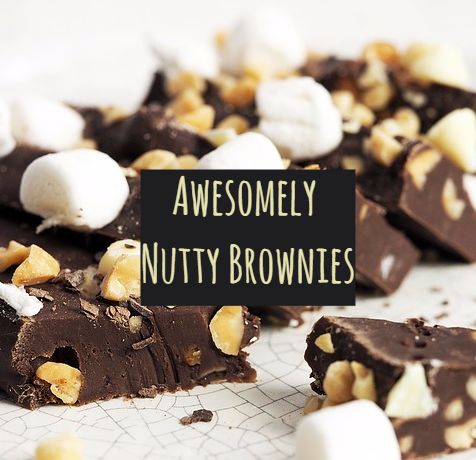 There's something about nutty brownies that's just too hard to resist! The texture of nuts blends perfectly with the softness of brownies, and its nutty flavor enhances the sweet bitterness of chocolate.
Here are some of the most beloved nutty brownie recipes online. Walnuts, pecans, hazelnuts - choose a variety that highlights your favorite nut!
If you enjoy eating homemade nutty brownies but don't enjoy cleaning up the mess, investing in a good quality silicone baking mat can do wonders. Because of its non-stick material, it's so easy to take off gooey fudge from the baking sheet. And it's easy to clean to - just pop in the top rack of a dish washer and you're done. No messy parchment paper needed! 

Blender Fudgy Nutty Avocado Brownies (Skinny Sweets Daily)
by Pam Beth
"When you bite into one of these gooey brownies, you will not believe they are made with healthy ingredients. No beans in these brownies! Grain free too. Just lot's of fudgy goodness to love."
Ingredients: 
1 large ripe avocado
3 large eggs, you can make these with vegan eggs but, I have not tried it with this recipe as of  yet.
1/2 cup unsweetened apple sauce, I used baby food applesauce
1/2 cup raw honey or maple syrup
2 tbsp melted and cooled coconut oil
1 packet. 1/4 tsp all natural stevia, optional
1/2 tsp sea salt
1 tsp baking soda
1/2 cup coconut flour
1/2 cup natural unsweetened cocoa powder
2 tbsp almond milk if needed for texture
1/2 cup semisweet chocolate chips
1/2 cup milk chocolate chips or more semisweet chocolate chips
1/4 cup chopped walnuts
1/4 cup chopped pecans
via Blender Fudgy Nutty Avocado Brownies
Nutty Triple Chocolate Brownie Cookies (Wanna Come With?)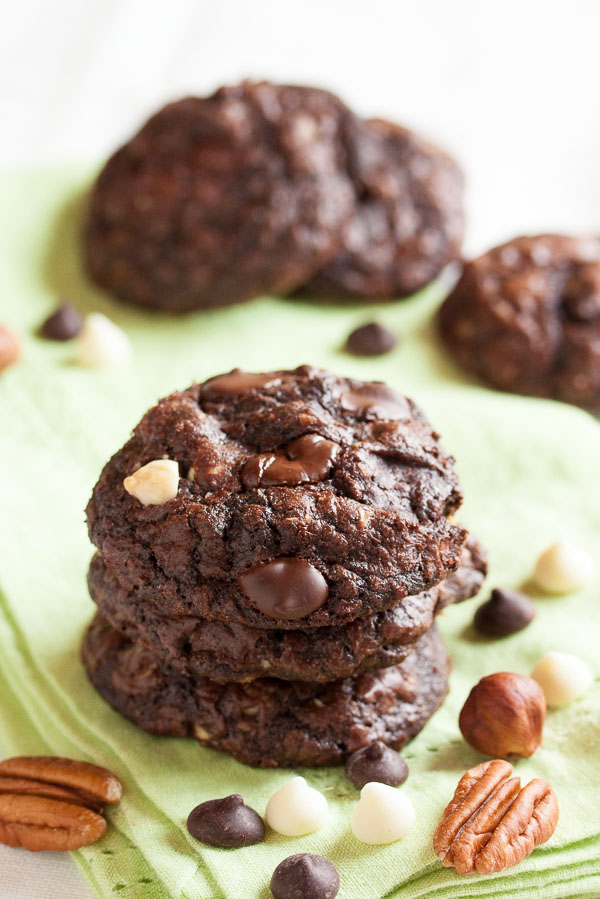 "Adapted from 'Awesome Chocolate Chunks' from The King Arthur Flour Cookie Companion. The original recipe says it will make 2 dozen cookies with 1/4 cup of dough each – I got 65 cookies using my usual slightly larger than tablespoon-sized cookie scoop. Feel free to get creative and use different nuts, or add dried cranberries or cherries to the mix."
Ingredients:
1 cup (125g) unbleached all-purpose flour
1 cup (120g) dutch process cocoa powder
2 teaspoons espresso powder (instant coffee should work too)
1/2 teaspoon salt
3/4 cup (170g) unsalted butter, at room temperature
2 cups (400g) granulated sugar
3 large eggs
1 tablespoon pure vanilla extract
1 cup (175g) chocolate chips
1 cup (175g) white chocolate chips
1 cup (120g) coarsely chopped toasted hazelnuts
1 cup (120g) coarsely chopped toasted pecans
via Nutty Triple Chocolate Brownie Cookies | wanna come with?
Double Chocolate Walnut Brownies (TODAY.com)
Samantha Okazaki / TODAY
"With just a few simple pantry staples, you can made delicious homemade brownies at home that will blow away any box mix." 
Ingredients
Non-stick pan coating
2½ cups all-purpose flour
4 cups granulated sugar
1½ cups cocoa powder
2 teaspoons baking powder
1¼ cups vegetable oil
8 whole large eggs
4 teaspoons vanilla extract
1 cup dark chocolate chips
1 cup walnuts, chopped
via Double Chocolate Walnut Brownies
Chocolate Walnut Brownie Bars (Thrifty Shopaholic)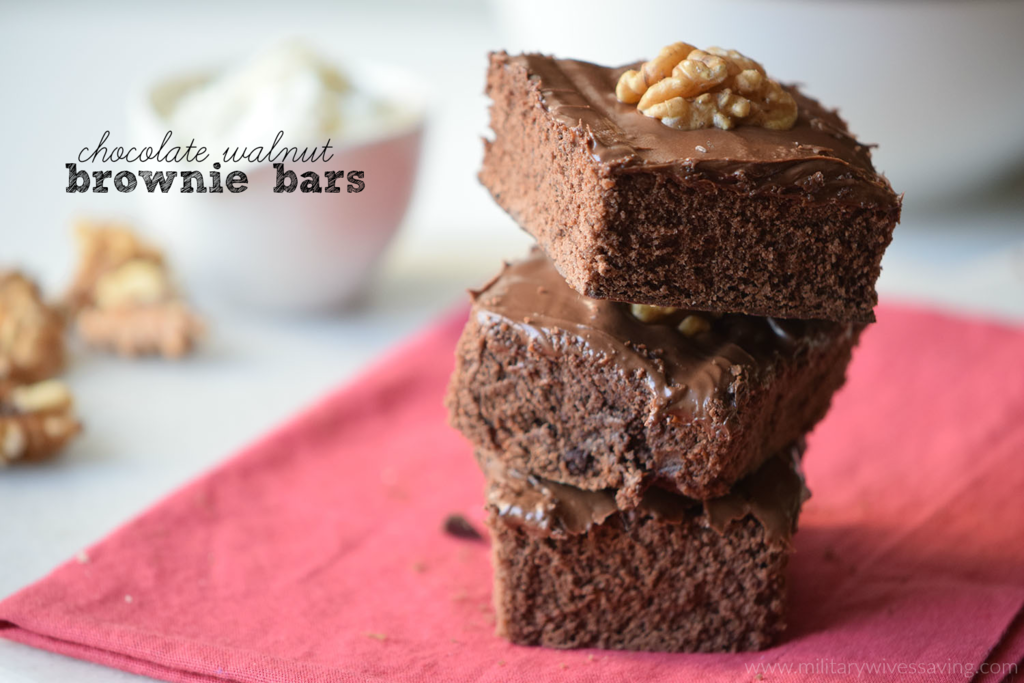 "You can serve the bars cool or warm, both options are just as good. If they are cold they are more chewy, if they are warm they are more soft and gooey, so it's just a matter of personal preferences. You can also serve the with some ice cream if you are looking for a more decadent dessert option."
Ingredients:
4 Cups all purpose flour
2 Cups butter
1 ½ Cup sugar
4 Eggs
2 Tbsps baking powder
4 Cups dark chocolate, chopped
2 Cups Hershey's Cocoa Powder
2 Cups walnuts, chopped
2 Cups dates, chopped