Let's face it - Holidays really isn't the same with Christmas cookies. Year after year, many foodies have various excuses not to make their own batch of freshly baked cookies and settle instead for the factory-made, foil-packaged, store-bought kind.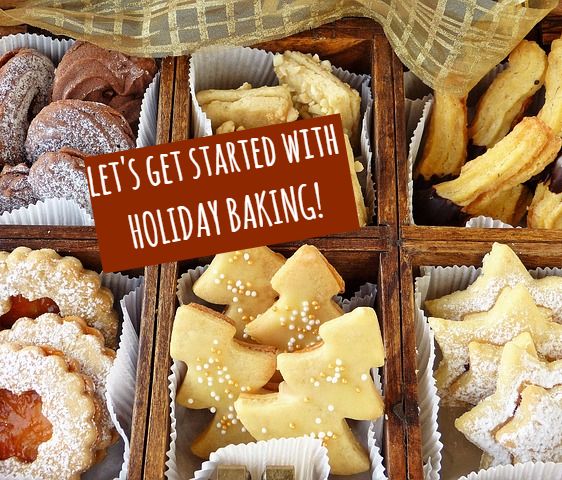 This year is the year to throw away all your excuses! Here are great Christmas cookie recipes that will surely liven up your holidays and sweeten the smell of your kitchen!
For those who want unique international cookies to munch on, try these awesome recipes for Christmas cookies enjoyed in Italy, Russia and Germany. Foodies who have no patience to shop for a ton of ingredients can enjoy Holiday baking with only three ingredients at hand! And for those who are watching their weight or just looking after their health in general, munching on cookies doesn't have to mean packing on the pounds with the help of these healthy reacipes. Happy baking!
Int'l Cookie Recipes      3-Ingredient Cookies   Healthy Cookies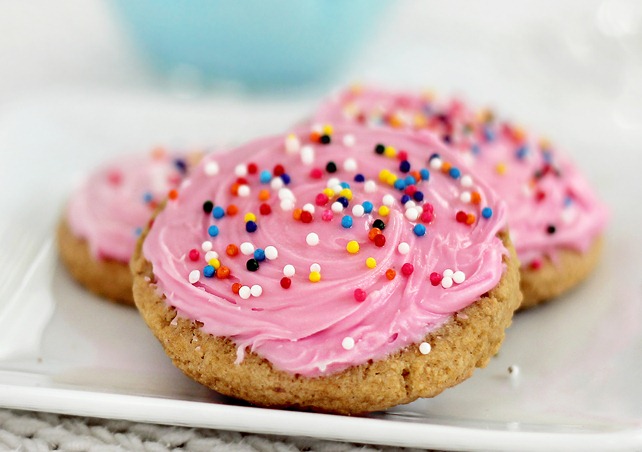 Italian Christmas Cookies (Cakescottage)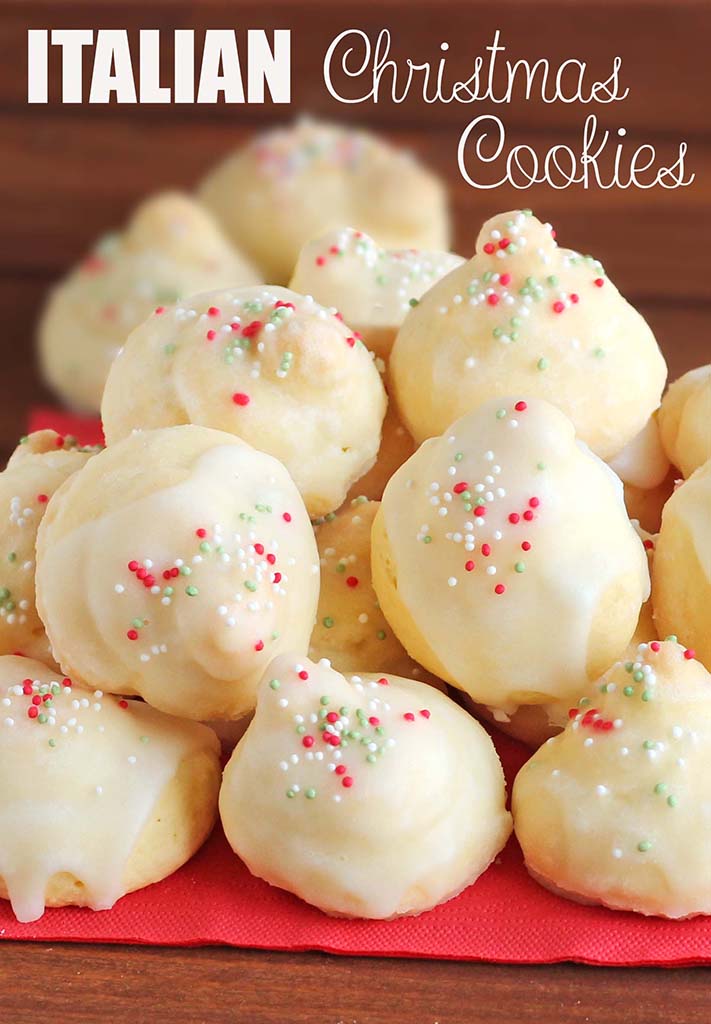 Ingredients
Cookies
4 eggs
1 cup sugar
½ cup butter
2 tsp. vanilla
3½ cup flour
4 tsp.baking powder
Icing
2 cup sifted confectioner's sugar
2 tsp. vanilla
6 tsp. water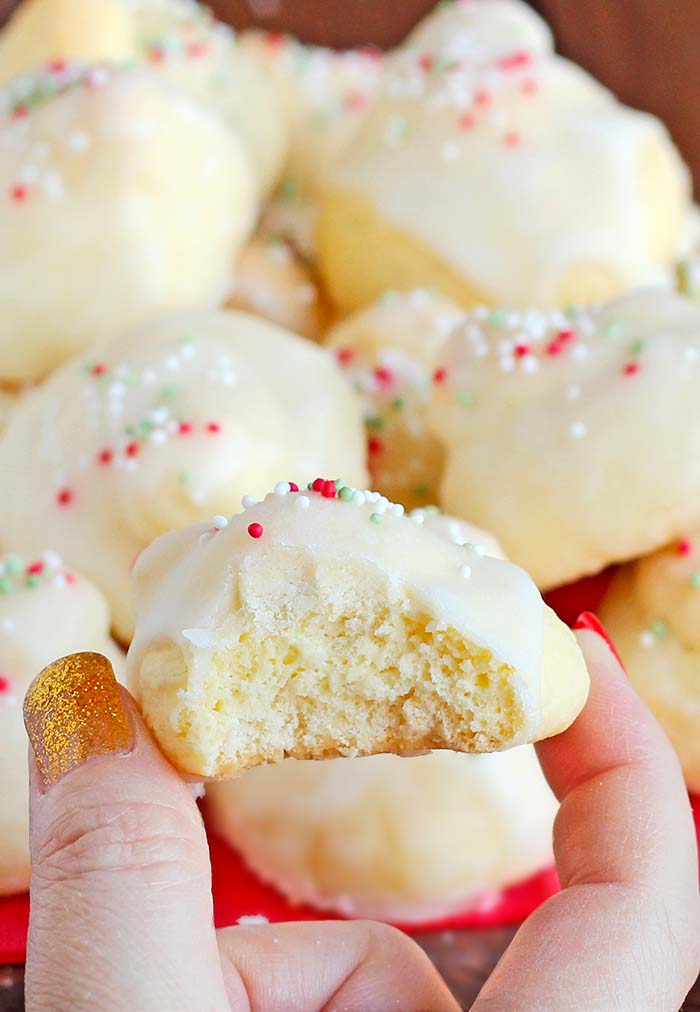 German Sugar Cookies (The Forge)
"In the southern part of germany I come from we call them "Austecherle"... With a name like that for a basic but fantastic, cut-out sugar cookie they naturally have to taste great :)"
Ingredients:
1 1/2 sticks of butter, softened
2/3 cup of sugar
1 egg
a dash of salt 
1/4 tsp. vanilla extract
1/8 tsp. almond extract
1 1/4 - 1 1/2 cup flour
1/2 tsp. baking powder
via German Sugar Cookies (The Forge)
Russian Tea Cakes (From This Kitchen Table)
Ingredients:
1 cup butter, room temperature
¼ teaspoon salt
1 teaspoon vanilla
½ cup powdered sugar
2¼ cups flour
¾ cup chopped nuts
additional powdered sugar
3 Ingredient Christmas Orea Cookie Balls (Mommy Snippets)
This recipie from Mommy Snippets is the ultimate no-sweat cookie recipe of all time. Aside from having only three ingredients, it's also a no-bake recipe, so no need to get that oven pre-heating!
This recipe is all about mixing cream cheese and crushed Oreos together to form truffle-like treats which are then covered in chocolate. It's somehow similar to graham balls, but this is much richer and is a bigger hit for lovers of cookies and cream. 
Ingredients:
1 package (8 oz.) brick cream cheese, softened
36 OREO Cookies, finely crushed (about 3 cups)- I used the Oreo Duo Cookies
4 pkg.(4 oz. each) semi-sweet baking chocolate, melted
via 3 Ingredient Christmas Orea Cookie Balls (Mommy Snippets)
3-Ingredient Buttery Shortbread Cookies
Just like the most delectable grubs on Earth, shortbread is only made of three ingredients - butter, flour and brown sugar. Who says you need a lot to make an extremely satisfying batch of baked goodies?
Though simple buttery shortbread cookies are already more than enough to please the palate, please, please go ahead and purchase the optional ingredient - sprinkles! It will make this cookies a lot more "Christmasy" and festive, perfect with a hot cup of chocolate on Christmas Eve! 
Ingredients:
2 cups salted butter, cold and cut into pieces
1 cup packed light brown sugar
4½ cups all purpose flour, divided
Optional: Your favorite sprinkles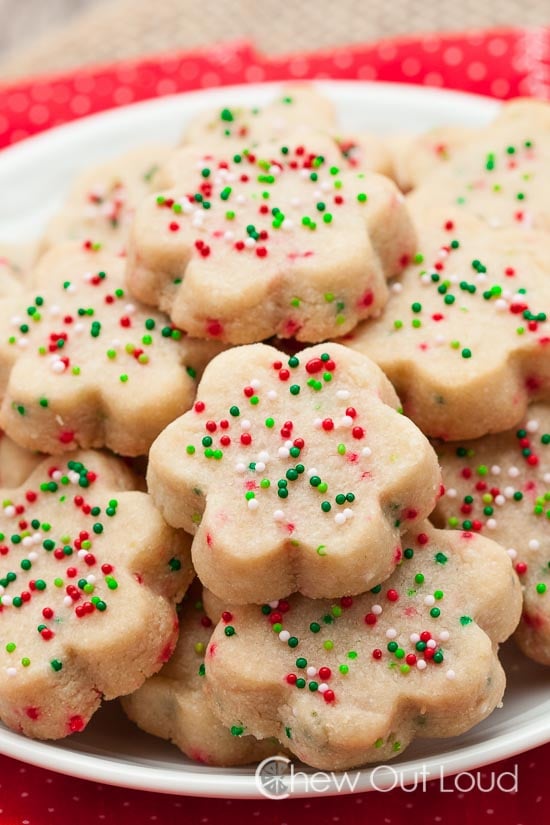 3-Ingredient Cake Mix Cookies
We know what you're thinking - cake mix is... for cakes, right? Nah, they're not just for cakes, but for a lot of other stuff as well, including Christmas cookies! These treats look may look fine and delicate, but they're actually super easy to make - just dump a box of cake mix in a bowl with eggs and oil, mix mix mix, and you're done! 
Drop spoonfuls in a baking sheet and a few minutes later, you'll have a plate of freshly baked cookies for you and your family!  
Ingredients:

1 (18.25 oz) box of cake mix- any kind. (The cookies pictured here were made using a strawberry cake mix and a Funfetti cake mix)
2 Eggs
1/3 c. Vegetable Oil
Healthy Sugar Cookies (Chocolate Covered Katie)
These healthier version of the regular sugar cookies uses healthier sweetening agents such as coconut sugar and evaporated cane juice instead of the regular sugar. Whole wheat pastry flour or spelt flour is also used in place of white flour. And for butter, a low-calorie buttery spread.
These substitutions may seem small, but you'll be amazed at how they can make yourl cookies so much healthier!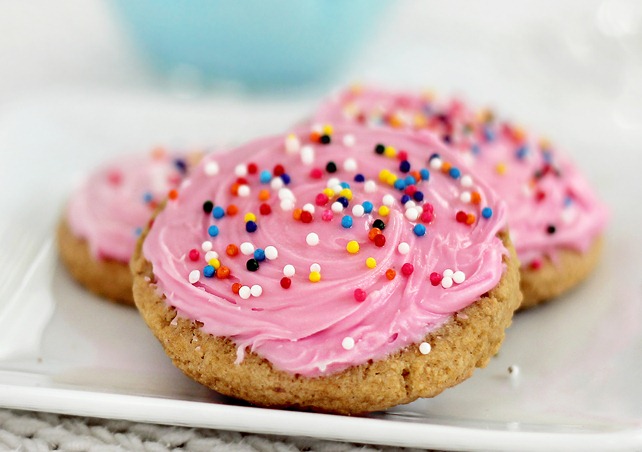 Ingredients:
3/4 cup spelt,  ww pastry, or all-purpose flour
1/4 tsp baking powder
1/4 tsp salt (just under level)
1/4 tsp plus 1/8 tsp baking soda
1/4 cup white sugar, or sucanat, coconut sugar, or evaporated cane juice (or xylitol for a sugar-free version)
1/2 tsp pure vanilla extract
1 and 1/2 tablespoons milk of choice
1/4 cup butter-type spread, such as Earth Balance (Some readers say you can use coconut oil, but I haven't tried it. I wouldn't recommend using a low-fat buttery spread.)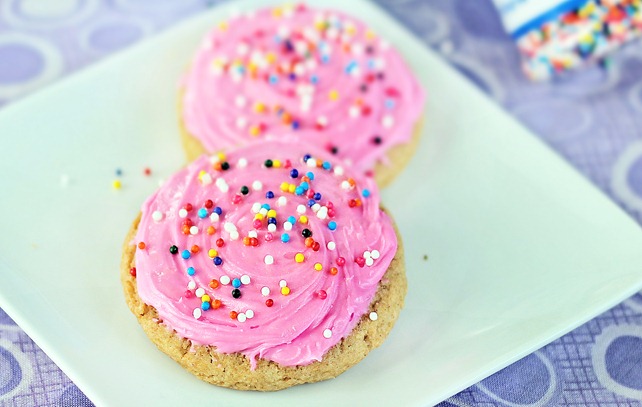 via Healthy Sugar Cookies (Chocolate Covered Katie)
Healthy Chocolate Chip Cookies (DIY Natural)
This recipe will surely be a hit among choco chip cookie lovers. The combination of apple source, honey, oats, nutmeg and cinnamon almost makes this cookie somewhat similar in flavor to a healthy granola bar.
Take the health factor to the next level by substituting regular butter with the low-calorie kind, and you'll have a batch of lovely cookies that are not only yummy but also guilt-free!
Ingredients:
¾ cup unsweetened apple sauce
½ stick butter 
¾ cup raw honey 
2 tsp. pure vanilla extract 
1 egg
1 egg white 
1 ½ cups organic white wheat flour 
1 cup organic whole rolled oats 
¼ tsp. ground nutmeg 
¼ tsp. ground cinnamon 
1 tsp. baking soda 
1 tsp. sea salt 
Linzer Torte Thumbprint Cookies (Lexi's Clean Kitchen)
What's great about this cookies is that it raw honey and applesauce for sweetness. And because of the natural flavors of vanilla extract and almond extract, you don't really need to add more sugar because the flavor profile is superb as it is.
Make your batch a lot more wholesome and truly your own by using homemade jam instead of store-brought kind!
Ingredients:
2 1/2 cups blanched almond flour
1/4 cup raw honey
1 egg
1 tsp vanilla extract
1 tsp almond extract
2 tbsp coconut oil
2 tbsp apple sauce
1 tsp baking soda
Dash himalyan sea salt
5-6 tbsp homemade or store-bought jam
Make cooking time a lot easier and more enjoyable by using good quality silicone baking mats. Not only are silicone mats sturdy and durable, because they're non-stick, you can also cut your clean up time in half.