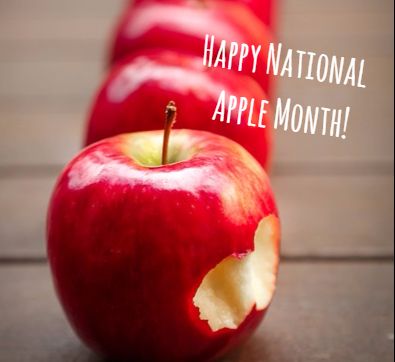 August is National Apple Month and it's the perfect time to celebrate the healthy freshness of apples! Though an apple is great to eat on its own, you can increase its health benefits by combining it with other superfoods.
This month, take advantage of the bountiful apple harvest and use it in many ways possible. Your body will surely thank you for it. As they say, "An apple a day keeps the doctor away!"
Apple is a delicious addition to lunch and dinner salads. It contribute a fresh crunch, and a unique fruity sweetness that will surely make you reach out the table for seconds! Don't worry about the calories - as long as you combine apples with other healthy fruits and vegetables, you're good to go.
Chicken Apple Pasta Salad Recipe (Landeelu)
Ingedients:
Corkscrew Pasta
2 cups Cooked Chicken Cubed
2 cups Red Grapes Sliced in Half
2 ribs Celery Sliced Thin
2 medium Granny Smith Apples
1 1/2 cups Mayonnaise
2 TBSP Honey
2 TBSP white vinegar
1/2 tsp Salt
1/4 tsp Pepper
1/2 tsp Poppy Seeds
By Amy Williams (My Name is Snickerdoodle)
via Chicken Apple Pasta Salad Recipe - landeelu.com
Baked apples chips is an absolute treat - it's tasty, yummy, and healthy - you can wolf down a bowl of these babies while watching television and you won't feel a single tinge of guilt.
Though it's tempting to just pick up a bag of apple chips at the grocery store, making your own is healthier - you can enjoy the treat sans the additives and preservatives. Check out the recipes below and you might be surprise at how easy it is to bake your own apple chips!
Baked Apple Rings Recipe (Dr. Axe) 
6 large apples
1 teaspoon of each: cinnamon, ginger, nutmeg
via Baked Apple Rings Recipe - Dr. Axe
Let's face it - however delicious a crisp and juicy apple is, there are some days when a piece of fresh fruit just won't do it. Sometimes, you just have to treat yourself and give in to sweet cravings - treats that highlight apple's natural sweetness with complementary flavors like caramel, cinnamon, and dairy. 
Below are three of the most popular apple snack recipes online. Take your pick and make a batch this week. Have a delicious National Apple Month! 
Caramel Apple Egg Rolls Recipe (Desserts.ph)
Ingredients:
3- 4 Apples, peeled, cored and diced
2 Tablespoons butter
½ teaspoon cinnamon
1-2 teaspoons sugar
(or use pre-made apple pie filling or your favorite apple pie filling recipe)
4-5 Egg roll wrappers
1 egg, whisked
Oil for frying (I fry with avocado oil)
via Desserts Recipes: Caramel Apple Egg Rolls Recipe
Apples are known for its detoxifying properties. In fact, numerous articles have been published about a 3-day apple detox diet that promises to reboot the body's systems after three days of eating nothing but apples.

This diet seems extreme, especially since having an apple or two a day already offers a lot of benefits for the health. Detoxifying apple smoothies are packed with fiber and nutrients that will boost your body's immune system. Combine apple with other nutritious fruits that your body will thank you for.
Apple Flaxseed Cinnamon Smoothie Recipe (Pop Sugar)
220 ml coconut water
4 raw almonds
1 teaspoon vanilla extract
1 teaspoon ground cinnamon
1 medium apple
1/2 scoop unsweetened protein powder
1 tablespoon flaxseed meal (ground flaxseed)
via Apple Flaxseed Cinnamon Smoothie Recipe
Apple pie is one of the greatest American comfort food of all time. However, some foodies may be hesitant to try their hand at making an apple pie from scratch because it's intimidating - not to mention, tediously tiring as well.
If you're looking for treats that will give you the same heart-warming flavors of sweet apple and cinnamon, here are a few great recipes that taste like apple pie but are not pies. 
Churro Apple Pie Cookies (Jo Cooks)
2 pkgs (2 crusts per pkg) Pillsbury Pastry Pie Crust
1 cup apple pie filling, chopped up
1 stick of butter, melted
1 cup sugar
1 tbsp ground cinnamon