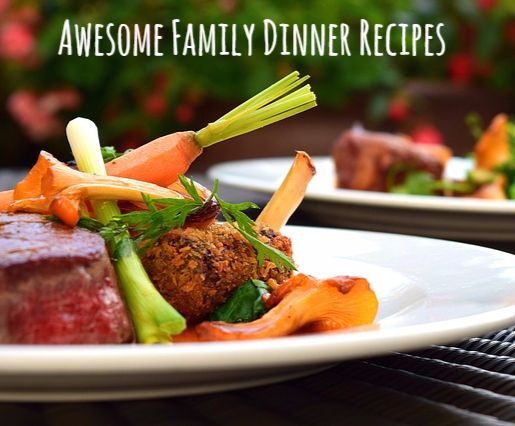 For most families, dinner is the only meal of the day spent with one another. As parents and children share food, they catch up on the ups and downs of the day, appreciate victories big and small, and offer encouragement to those faced with challenges.
Of course, it's always a great idea to stimulate conversation with great food that the whole family can enjoy! Here are some great dishes for family bonding at the dinner table.

 Chicken Recipes       Potato Side Dishes     Easy Brownies
Chicken Dishes Your Family Will Love
They say chicken wings are the most delicious part of the bird because it's the part with the most skin. Here are some of the best chicken wing recipes online that are not only yummy but also super easy to make!
Some believe that chicken might just be the most generic meat there is. When adventure-seeking gourmands try new kinds of meat, "It tastes like chicken" is the most reassuring sentence they often tell others to assure them that it doesn't take weird, notable or different. Here are ultimately tasty recipes for you to try!
Some people think of chicken as boring, never as hardcore as dark meats like beef or veal. But the truth is, it actually depends on how you cook it! 
Potato heads unite! This National Potato Month, we're giving you the best potato recipes on the internet today. Here are some of the meatiest and cheesiest recipes you can make this week!
Though it's easy to pick up a bag of potato chips at the grocery, there are so many upsides to making your own batch at home. In fact, we're giving you three reasons why you should try your hand at making your own crunchy chips.
The French and the Belgians love them and the Brits call them chips - fries is certainly one of the best loved food in many parts of the world. We're giving you the best online recipes for potato fries and wedges! 
A lot of brownie lovers are hesitant to make their own batch at home because of two reasons - number one, they don't like the hassle of shopping for all the ingredients and measuring them one by one; number two - they're not thrilled with cleaning up a mess in the kitchen.
Homemade brownies are a joy to munch on! Imagine biting into a soft, gooey, chocolatey bar that has the right balance of cocoa bitterness and slight sweetness... it's heaven! Not to mention, baking brownies fills your kitchen with an amazing smell that reminds you of home. 
The combination of chocolate and fruits is just too irresistible! Here are some awesome brownie recipes that are made divine by the addition of delicate fruit flavors. Whether you're an avocado lover, an apricot glutton, or a raspberry fan, you'll surely find a recipe or two that you can use in the kitchen!